Drake Dental
March 22, 2022
First National Bank of Michigan Goes Beyond Service with a Smile.
While it begins with a smile, great service sometimes requires a little pampering, too.
Beyond providing comprehensive dental care-from routine checkups and cosmetic makeovers to tooth restoration and emergency treatment – Drake Dental takes pride in delivering a spa-like experience. Whether you're visiting the Drake Road location or the new 6,818-square-foot, state-of-art office in Portage, the comfortable, welcoming ambiance is evident the moment you step through the door.
Like Drake Dental, First National Bank of Michigan strives to go the extra mile for its customers. "Josh's (Schultz) reputation for being efficient, trustworthy and a great banker was spot on," said Dr. Kathy Khaghany-Duffy, DDS. "He was not only responsive, but also added lots of personal touches throughout the deal."
Built on Local Leadership
To bring her beautiful dental facilities to life, Dr. Khaghany-Duffy also partnered with another local leader: Hansen Building and Design Corporation. One of the premier contractors for dental offices in southwest and West Michigan, Hansen is known for building warm and inviting spaces with patient-friendly appeal.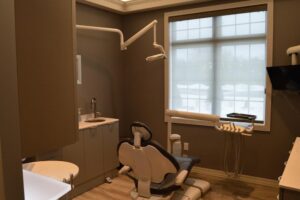 Posted in Customer Focus