First National Bank of Michigan to open branch and relocate loan production office to downtown Lansing
September 1, 2020
LANSING, MI, September 1, 2020-FIRST NATIONAL BANK OF MICHIGAN (FNBM) announces plans to open a branch and relocate its Lansing loan production office to 101 S. Washington Square. The Lansing location will become the sixth branch for First National Bank of Michigan, which has three branches in Kalamazoo County, one in downtown Grand Rapids and one in Holland.
First National Bank of Michigan, a 14-year-old locally owned and operated bank, will occupy the space in October 2020 after renovations are complete.
"The decision was based on our commitment to be visible and accessible in the Lansing area, along with our desire to grow and expand our business," said Patty Barnas, Market President. "Along with proximity to the business district, this location aligns with our community banking focus and the history of banking in this building." The building was originally constructed as the Lansing State Savings Bank in 1918.
First National Bank of Michigan's search for a permanent location began shortly after opening a loan production office in early 2017. "We had several choices, and ultimately, we wanted to be downtown," Barnas said. "The building at the corner of Michigan Avenue and Washington Square is a staple in the community, has customer parking available, and can handle our future growth."
Leading the banks efforts in the Lansing market, Barnas is joined by Jennifer Marsh, Commercial Banking, and Melanie Squires, Branch Manager. All three experienced banking professionals reside in the community.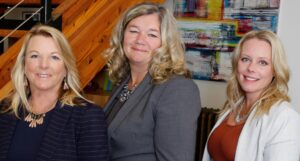 "We are pleased to add our presence in downtown Lansing," said Daniel Bitzer, President & CEO, First National Bank of Michigan. "We look forward to relocating near the Capital and to expanding our footprint and commitment to the community."
Posted in News